SERVICES FOR ARCHITECTURE STUDENTS
If you're an architecture student, you're probably exhausted and lack the motivation to do the work that comes with but is separate from the literal designing of an architectural project. Whether it's curating your work, getting your narratives right, or introducing yourself as a designer to potential employers, I'm here to help you through this process. Alternativally, you might just want an outside look or motivation from a passionate, qualified stranger. Whatever the matter, I guarantee confidentiality - I just want you to succeed in this competetive industry. See below for my exact services.


I can make your portfolio
Portfolio design is a complex, iterative processe requiring decisions to be made about image selection, proportion, and arrangement. In the formatting of your work, I can be a fresh pair of eyes dedicated to showcasing your best design self in a legible, professional, well-designed document. Together we can find precedent formats then choose a direction, afterwhich you'll send me the content so that we may begin.




I can write your presentation scripts / narratives
Architecture involves a lot of writing. And as our projects stray further from what is archetypal and understood, our reliance on text will only ever increase. If English is not your first language, or you simply can't be bothered to write, I'll do it for you. This applies to presentation scripts and portfolio captions. I can also help you structure meaningful narratives, so that your designs may come across as more intentional. Give me the basic scenario/criteria and I can prepare some options.

Click here for a link to my thesis writing
I can format your resume / cover letter.
When applying for a job, a resume and cover letter allow you to introduce yourself in detail and with context - the cover letter as a paragraph-structured statement about you and your particular goals, and the resume as a descriptive list of your experience and qualifications. These documents will reveal things about you to employers that might not come across in your portfolio, and allow them to quickly identify and select you out of a pool of applicants.
I can design your website
I've found that websites (such as this one) make a superior alternative to Issuu-published portfolios. They allow so much more freedom in formatting, while taking into account desktop / phone configurations. You can embed links to interior or exterior content, plus videos. You can constantly update the website, unlike the long, complicated process of having to edit, rePDF, then reuploading your portfolio. You'll have control over ads, unlike Issuu which is full of ads - and look less obnoxious to employers. Also, if the firm your applying to isn't stingy about accepted application formats, sending them a link to your website keeps everyone from worrying about storage space and portfolio size.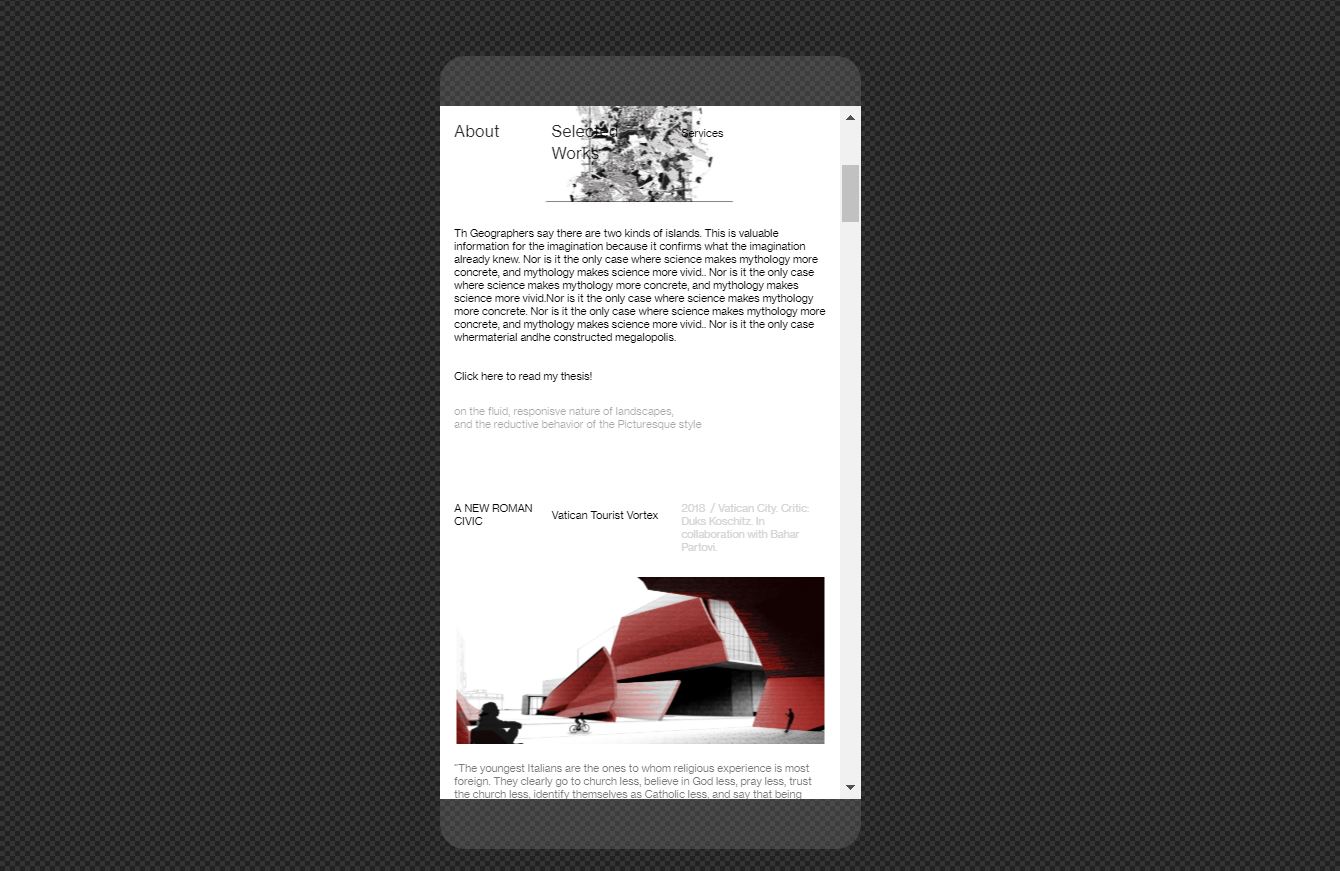 I can gas you up (design confidence!) /
navigating narcissism

Narcissim in architecture school - you know what I'm talking about. Let's call so I can explain to you the reality of the situtation and why you have amazing design potential. Send me some of your work, complaints and a brief intro/history so I can prepare my argument.
I can critique your work and give you design recommendations

A lot of the time when we are stuck in design, it's because we don't know how to justify something - we're lacking in concept. In academic projects, conceptual clarity in design is everything, but it can be difficult to find when there are so many options out there, unconstrained by the realities of real-world architectural work. I'll help you to clarify your goal, and supply potential design directions that speak to your concept.
I can join you in an architecture competition!
If someone is looking for a design partner for competitions hit me up!
SERVICES FOR NON - ARCHITECTS

I provide general aesthetic and tiny-scale architectural services for the non-architect. See below.

I can design posters, ads, catalogs, flyers, menus, brochures, invitations, business cards & stationary, and logos. I can create graphic-representations of existing architecture (like if you want an illustration of your house or something). I don't provide realistic renders, you can find a rendering service in China to do that for you for $1,000.
If you'd like something to be 3D modeled for the sake of 3D diagrams or to be 3D printed at a shop, I can prepare that. Below: eyelash curlers I modeled.

I can take given video material and compile it to tell a story. See video below that brings together various sources I found on Youtube regarding the advent of the Berlin Wall. SOUND ON FOR FULL EFFECT